Lectures & Publications
Lecture Topics:
I speak on lots of different subjects, all of which are absolutely fascinating. If you don't see something here that's exactly right for your event, please let me know. I love a challenge and am happy to work on new material. Let me tailor something just for you. If you'd like to discuss booking a lecture, workshop, or day long program, please contact me via email (click here info@backyardforager.com) to work out the details.
The topics below are available for presentation at your local gardening event. Click each one for more info:
Backyard Foraging
When you think about hostas and day lilies, you probably focus on their appealing foliage and vibrant blooms. But these perennials are delicious as well as lovely; a surprising number of our favorite garden plants can feed both body and soul. Learn how to recognize, harvest, and prepare tasty treats such as wintergreen sorbet, rose hip soup and dahlia tuber bread from plants you already have around your home.
The Wildcrafted Cocktail
Learn how to combine foraged, local, seasonal flavors with your favorite spirits, to create wildcrafted cocktails like a dirty daylily martini, sumac infused gin, or rose hip liqueur. For an extra special event, add a workshop where you can make your own cocktail bitters and taste several wild cocktails.
Orchid Growing for Wimps
This lecture includes profiles of sixteen easy to care for orchids, all of which can rebloom in average household conditions. Excellent slides illustrate various orchid species, basic care instructions, and professional "tricks" to get the most out of each plant. Not all orchids are temperamental tropicals; many make low-maintenance, free-blooming houseplants.
Gardens of the Gods
Ancient Greek myths and literature are filled with references to plants that were used for cooking, magic, and medicine. This presentation describes fifteen plants cited in the classics and details their practical uses over the last 2,000 years. We'll also discuss where they grow today, and how you can add them to your own gardens.
Rooftop Gardening
Rooftop gardens present a unique set of challenges and require a unique set of gardening skills. Learn about choosing containers and the plants that thrive in them (trees, shrubs, perennials, annuals), light weight soil mixes, harsh growing conditions, and navigating the unusual perils of city gardening.
The Blended Garden: Good Looks & Terrific Taste!
Did you know many ornamental plants are also edible? Maybe you've grown wild ginger for its beautiful leaves or Juneberry for its early spring flowers and didn't realize these plants could feed your body as well as the gardener's soul. This lecture suggests ornamental garden plants that do double duty, by being both beautiful AND delicious! Many also grow well in containers.
Just Because You're a Gardener Doesn't Mean You're Green
It's a fact: some traditional gardening practices harm local ecosystems. Learn how to work WITH your landscape to create a beautiful, healthy garden. Look at sustainable gardening practices that reduce your dependence on chemicals, garden designs that work with your surroundings to create a sense of place, and low maintenance plant choices that encourage wildlife and pollinators. With a multi-pronged approach, you can grow a garden that is really, truly green.
Easy-Care Houseplants
Do you crave indoor greenery but lack the time necessary to nurture it? By choosing the right plant for the right place you can create an interior landscape that is both lush and low-maintenance. This presentation suggests 25 unusual tropicals for various exposures. Visual aides include beautiful slides and professional labor-saving devices.
No Space? No Problem!
If you have a small back yard, terrace, patio, or deck, a few well-planned containers can deliver a lot of pizzazz. (Not to mention some tasty herbs and vegetables!) This lecture offers unusual container set-ups: a container water garden, plastic grow-bags, natural containers, flea market funk, and a containerized tree. Slides illustrate step-by-step planting instructions for each type of container, explaining how to make the most out of just a few square feet.
Family Fun
Quality time together outdoors is priceless. This lecture includes three easy, family projects to get everyone gardening…even the cats! (Ok, the cats don't actually do much work.) Attendees take away plant lists for a special dinosaur garden and a feline field of dreams. We'll also cover step-by-step instructions (illustrated with slides) on how to plant both of these family gardens and how to build some fun (not scary) scarecrows.
Excellent Epiphytes
An epiphyte is a plant that naturally grows on another plant rather than in the ground. Many are quite drought tolerant and make exceptional, low maintenance house plants. Discover several groups of epiphytes recommended for in-home growing, including Hoyas (fragrant flowering vines), Rhipsalis (flowering cacti), bromeliads, and some surprisingly tough ferns and orchids.
Gardening in Deer Country
In the on-going battle between gardener and deer, we humans need all the help we can get. This lecture focuses on unappetizing plant material, and includes information on deer-repellents, barriers and physical deterrents, and psychological warfare techniques that give us gardeners a fighting chance.
Reducing Wildlife Damage in the Garden
Reducing wildlife damage to plants requires a multi-pronged approach. First, learn to identify which animals are eating in your garden so you can work against them effectively. We are all familiar with the sight of deer munching on our hostas, but who digs up the Iris in the middle of the night and neatly nips the heads off all the Echinacea? You must identify the fauna before you can define your strategy. Once you know who's doing the damage, you can reduce it through intelligent plant choice and the use of various deterrents.
Inviting Wildlife to your Garden
Would you like to turn your yard into a wildlife sanctuary? By carefully choosing your plants and planning your landscape, you can offer food and shelter to a wide range of animal (and insect) life. Learn about the environment and the tightly woven web of life, and how to make your garden attractive to wildlife.
Maintaining Perennial Gardens
Proper maintenance is essential in a perennial garden. Learn about a wide range of issues critical to maintaining an attractive garden. Discussions include techniques, cultural concerns, design issues, and creative challenges that allow a gardener to bring a garden ever closer to perfection.
Putting the Garden to Bed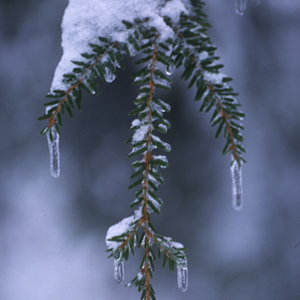 Preparing your garden for its winter rest involves more than simply cutting back a few perennials. While some plants should be pruned, others are best left standing through the winter. Proper care in fall can reduce the need for fertilizers and insecticides in the spring, and result in a generally healthier garden all year round. This lecture covers pruning, division of perennials, bulbs, soil amendments, mulches, winter protection, tool storage, and more.
Awesome Annuals
Annuals are popular as stand-alone plantings and mixed with perennials to fill in gaps and add splashes of color throughout the season. Learn how to grow and maintain old favorites and new varieties of annuals. Look at basic propagation techniques such as starting from seed and transplanting seedlings successfully.
Provocative Perennials
Perennials are the most popular garden plants, returning year after year. Discover some of the best varieties for form, color, and season of bloom. Many are valued for their foliage as well as their flowers, making them beautiful even when not in bloom. Learn which plants do best in sun and shade, as well as in a variety of "difficult" conditions.
Hardy Cacti and Succulents
To most of us, cacti and succulents are classic desert plants. We think of the imposing Saguaro in Arizona and never imagine growing something similar in our urban gardens. In fact, cacti and succulents tolerate a wide variety of growing conditions and many are hardy to Zone 4. If you appreciate the architecture of these plants, you can easily feature hardy specimens no matter where you live.
Hanging Baskets
Your property is flawlessly landscaped but when you look at your house, something seems to be missing. Did you forget to accessorize? With hanging containers you can place spots of color exactly where you want them. They're like jewelry for your home; without accessories, your house is only half-dressed.
Container Gardens
Not all plants grow well in containers. This lecture focuses on perennial and annual plants, as well as trees and shrubs that are especially well-suited to container growing. We'll also discuss container construction materials, light-weight potting mixes recommended for containers, and their unique fertilization and watering requirements.
Celia Thaxter
Celia Thaxter, an exceptional gardener, poet, and painter, was a Renaissance woman in Victorian New England. She wrote about her garden on Appledore Island in the beautifully illustrated volume, An Island Garden, published in 1894. This lecture looks at Celia's garden and discusses her work as a gardener and writer at a time when creative outlets for women were severely limited.
Native Medicinal Plants
Extend your appreciation of our native plants from the aesthetic to the ethnobotanical. In this presentation I'll introduce you to some of North America's most important medicinal plants, reviewing their history and uses. We'll end by sampling a few herbs and teas. An extended workshop portion is available for groups that would like to acquire more practical experience.
Intelligent Interiorscapes: Reward without Risk
Residential and commercial interiors both benefit from the installation of artistic and practical landscapes. This lecture focuses on recommended plant material for various situations and includes step by step suggestions for thoughtful preparation of your site.
Propagation
Nothing is more satisfying than propagating one of your favorite plants. Whether it's a hard-to-find specimen you'd like to have more of or a gift for a friend, the process is rewarding and surprisingly easy. In this presentation I demonstrate various propagation techniques (seed germination, leaf and stem cuttings, division, bulb propagation). It's a hand-on workshop, and everyone will take home a plant they've started in class.
Gardening with Artificial Light
There have been enormous innovations and improvements in artificial light in the past five-ten years, so the absence of natural light should not limit your interior landscape. What do you want to grow? Orchids in a small closet? Basil in January? It's all possible with the right kind of grow lights.
Xeriphytic Gardening
In the past five years, communities all over the United States have experienced some form of drought, and as a result many of them have restricted the use of water for gardening. By choosing drought-tolerant plant material and carefully placing that material, you can design a garden that is both lush and water-wise. Arm yourself with information and be prepared for any restrictions your community may place on future water usage.